The money spent by political parties for the Telangana Assembly elections can be palpated in the alcoholic breaths of several flag-bearing men at the political rallies in and around Hyderabad. The money offered at the rallies — around Rs 300 per rally — is over Rs 100 more than Telangana's rate under the Mahatma Gandhi National Rural Employment Guarantee Scheme (MNREGS) and close to the daily wage in many parts of the state. For the labouring poor, who are generally employed temporarily and often work under MNREGS, the elections are just another job, a source of income, except that most of the money spent is unaccounted for.
The State Election Commission of Telangana seized over Rs 112 crore — Rs 90 crore in cash — till this week. The figure touched Rs 104 crore after income tax officials found Rs 51 lakh in cash at the farmhouse of S Shridhar Reddy, brother-in-law of Narender Reddy, a candidate of the Telangana Rashtra Samithi (TRS) contesting from the Kodangal constituency.
A notebook the I-T department found in the farmhouse reveals the magnitude and methods in which money is being spent on the elections in Telangana. "Pages 1, 2 and 3 (of a diary) have notes from 27 November when a search took place. The total of all the entries comes to around Rs 1.2 crore," I-T sleuths told the Telangana Chief Electoral Officer in a letter. The notebook also reveals that money was being spent on political campaigns, or "to get political favours by distributing money to various leaders".
I-T sleuths also found that several pages of the notebook were regularly torn in an attempt to cover their tracks. A loose page found in the farmhouse contained details of wine distributed across 26 gram panchayats.
Furthermore, scores of enthusiastic men cheering at political rallies in Hyderabad are often inebriated. I can vouch for this from the two political events I attended in Hyderabad on 2 and 3 December — a mega TRS rally held at Parade Grounds that Telangana chief minister K Chandrashekhar Rao attended and a roadshow by the "Prajakutami", the alliance of the Congress, Telugu Desam Party (TDP), Telangana Jana Samithi (TJS) and Communist Party of India (CPI), attended by Andhra Pradesh chief minister Chandrababu Naidu.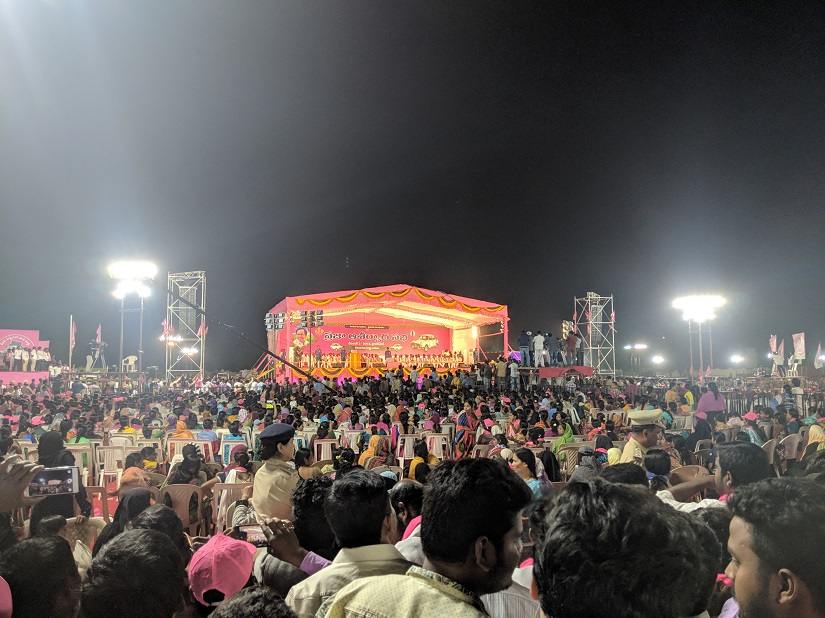 "Look at them!" a traffic police signaled to me as I took photos of school vans that were being used for the TRS election rally. "Not the vans, the people inside them." I could see a few young men lying inside a school van. The traffic police said that they were too drunk to get out of their vehicles.
Alcohol is a theme that perhaps unites people at many election rallies across Telangana. "We were given flags and brought here. Most men have gone to work, which is why there are several women here," a drunk labourer said, holding onto me for support. A few attendees at the rally said they would be paid around Rs 300 after the event.
While the drunks at KCR's rally enjoyed themselves dancing to the TRS' songs and munching on snacks, those at Naidu's rally were either waiting to leave or cheering the Andhra chief minister merely to pass the time. "Mujhe Telugu nahi aata (I don't know Telugu)," said a young man who kept cheering for Naidu as he made jabs at KCR. After Naidu left, groups of women waited for vehicles arranged for them.
An auto driver, working as a TRS activist, asked a few women why they were attending the alliance's rally. "The earnings of a husband and wife are different," a woman replied, "but I will obviously vote for the car (TRS)."
While the TDP, BJP and Congress are seen as outsiders in Telangana, KCR is seen as one of them. TRS has even successfully appropriated various Andhra songs to his party's advantage. At the rally, the audience danced to an altered version of a popular Telugu song from the movie Rangasthalam, which unfolds in the context of coastal Andhra of the 1980s. The lyrics of the TRS version of "Aa Gattu Kosthava Ranganna Eegattu Kostava" (will you stay on that side of the bank, oh Ranganna, will you come to this side) asks the electorate for whom they will vote — the good represented by KCR and his policies and the evil represented by the Prajakutami and BJP.
Furthermore, the Congress is likely to have an advantage in districts such as Nalgonda, where it had traditionally held power. The votes of landless labourers and tenant farmers could add to the Prajakutami vote share in many areas since these sections have not been able to avail any benefits of KCR's "Rythu Bandhu" farmers' investment support scheme.
"I have only half an acre," said Ramulamma, a street vendor at Choutuppal in Nalgonda district. "Only the haves are getting fatter."
A flower seller at the same junction in Choutuppal can't decide for whom to vote. "They haven't done much work in our area. But my mother gets pension regularly."
In areas where the contest is close between the TRS and Prajakutami, the pink party might get an upper hand because of the welfare schemes it has implemented. In constituencies where BJP candidates are contesting, the goodwill the TRS has harvested through welfare schemes might help them win. Also, the BJP seems to have an unspoken arrangement with the TRS in many places.
"Take this," a woman said, handing me a BJP pamphlet. "But vote for car (TRS)." She lives in Nalgonda town and gets paid around Rs 200 to distribute pamphlets.
S Latha, another women employed by the BJP to distribute pamphlets said, "We can run our lives only by doing labour work. How can we not go?"
For these women, election campaigns are just another opportunity for employment.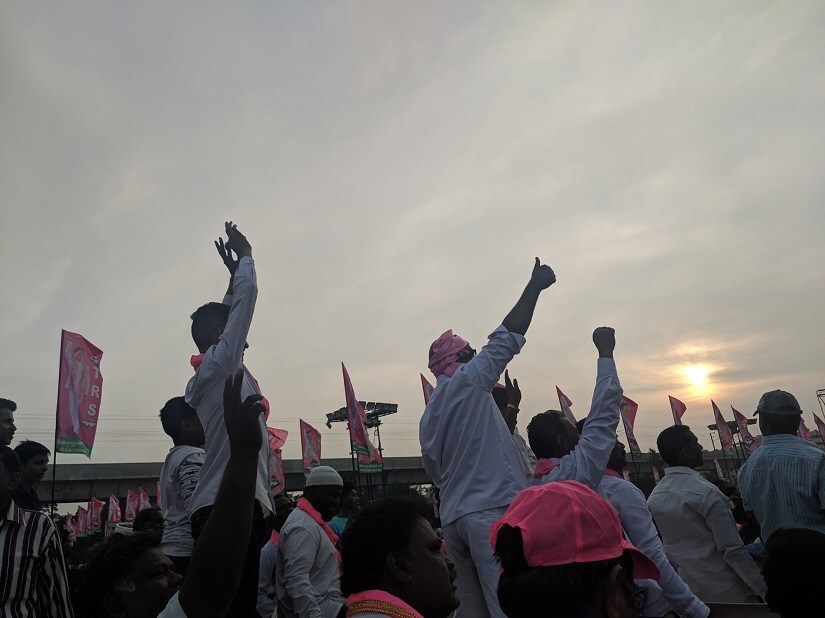 Although the unemployed help political campaigns, or attend rallies for money, they see a deeper meaning in the election process. They hold trust in the democratic process and will most likely leave for their respective constituencies on the day of the election or the day before.
However, not everyone attending these rallies necessarily see the elections as a meaningful process. The teenagers who attended the TRS rally were, perhaps, the most disinterested. One of them even had his headphones on. Many of them recently graduated from school. The two I spoke to weren't interested to vote for any party even if they were given a chance.
"They are all the same," said a teenager who would be eligible to vote in four years. He said he and his friends were attending the rally because it was a Sunday and there was no college to attend. "We are 20 of us. And your leader brought us here. We will get money after the meeting. "
Disclaimer: RSS has been taken from their official website.